LandUseUSA has published the following two articles in 2014 and 2015 that focus the Target Market Analysis (TMA) approach and completing market research and analysis. A TMA Tutorial is also available for preview and can be customized for your unique region, community, and audience.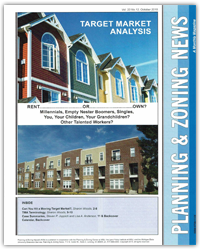 Can You Hit a Moving Target Market?
Planning & Zoning News | October 2015
Every day families across the nation pack up their boxes and make a significant life change by moving to a new address. Some are renting or buying their very own place for the first time. Others are downsizing, particularly empty nesters and adults that are newly single. Others are drawn by jobs, family schools, transit, and other services, or are simply hoping for a better quality of life. Is your community prepared to intercept these moving target markets?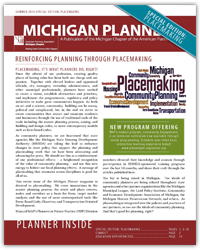 Target Market Analysis | A Special Edition on Placemaking
Michigan Assoc. of Planning | Summer 2014
TMAs involve a study of household lifestyle preferences that are on the move; and their preferences for Missing Middle Housing formats, entertainment and recreational venues, and retail – particularly downtown merchants. The TMA approach identifies households that are on the move, are inclined to choose urban settings (and particularly downtowns), and are seeking Missing Middle Housing formats – particularly townhouses, row houses, and lofts / flats above street-front retail.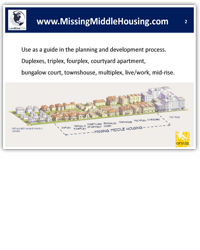 Michigan Missing Middle Housing
LandUseUSA | 2016 – 2017
LandUseUSA provides educational tutorials and presentations that focus on study goals and objectives, process, key terminology, benefits, and implications for planning and development. We are available to explain Missing Middle Housing formats in Michigan, and related strategies for real estate development, downtown reinvestment, and economic growth.